Newcastle website design
I am no longer living in Newcastle and will not be offering web design or local SEO strategy.
Recent work…
The following is information I was using to promote my services…
I'm not a designer, I don't claim to be and in making lower budget websites for business, you usually can't afford one. I am an organised and experienced digital producer, specialising in getting the right people to your website and structuring information on your website so the prospective customer absorbs your message.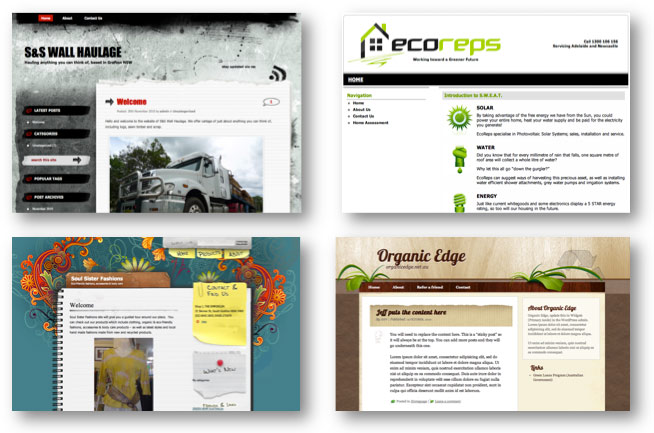 I build websites that you can manage and update yourself (once I've built you a great one of course!), saving costs on maintenance.
I work with you to make no-nonsense, easy to use and effective websites. I want to do for you, what I have done for the last 5 years for some of Australia's and the world's biggest businesses.
This brings you more customers, and builds the reputation of your business.
Who am I?
An experienced interactive producer (someone with experience in all areas of websites: design; build; strategy; Search Engine Optimisation), having worked in Australia's biggest and best digital agencies. Now I am taking my experience and knowledge freelance, creating very affordable online solutions for local small/medium businesses.
Read the about page for more information.
What are my credentials?
I have worked for 3 years with Amnesia Razorfish, a highly awarded and well known interactive agency.
Then I worked in the ninemsn/Microsoft local search team where I specialised in local business search and Search Engine Optimisation.
I then spent 1 year with Clemenger BBDO and Clemenger Proximity in Melbourne working on some more amazing digital projects.
Take a look at my portfolio as an interactive producer, working with Yellow Pages, White Pages, M&M's, Xbox and more.
A few recent websites can be found in my freelance website design portfolio.
Can you afford to not have an online presence?
There are over 900,000 small/medium businesses in Australia. These days, most people use Google to find businesses. You need a website setup right to bring in prospective customers.
How do we work together?
We start where most people don't – planning. I work with you to formulate an online business strategy. From this point, every project is different, so just get in touch with me and we can talk about how we work together to make you a website.
How much does it cost?
Website projects vary greatly. On the lower end, I can build you something for $200 (a one week job, where I setup a website with an easy to use system that you can put all the content in yourself). In most cases, and for an effective website the investment is at least $700 (2 week+ project).
Where do I buy a domain name and hosting?
Host Geek are an Australian domain name seller and web hosting provider. Not only do they provided reliable, cheap and easy to use hosting, they offer great customer service and have some features in their web hosting which others charge much extra for.
Visit Host Geek today for cheap Australia based business and personal website hosting.