With a move to new data centre in Sydney, cheap Australian web hosting has never been so good! As said in my mini review post of the best Australian web hosting, these guys at Host Geek give you great customer service on a really good web hosting package.
Now you can win an iPad with HostGeek!!!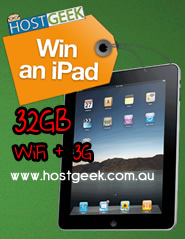 They have a competition running now, where you can win an iPad. There are 3 different entry methods:
Like them on Facebook (1 entry)
Follow them on Twitter (1 entry)
Signup for a hosting package (10 BONUS ENTRIES!)
So take a look at the HostGeek homepage and blog for more information about the competition and their hosting packages. I really do rate these guys, I have have a couple of sites with them.
The promotion will run from 9:00AM March 6th 2011 to April 17th 2011 Ending at 11:59:59PM.