Since buying my first kayak a couple of years ago, I've always wanted to go kayak camping. During the Australia Day long weekend of 2015 I made my way to Wooli NSW.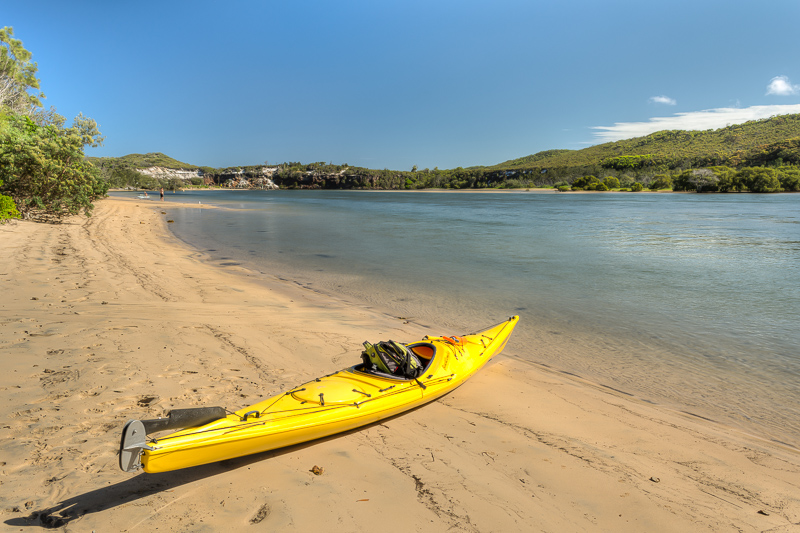 My current kayak is a Barracuda Beachcomber Ultralight. It's a great kayak for both ocean and rivers. Compared to my old Mantra Palani kayak, the Beachcomber is: 86cm longer; 17cm thinner; 15kg lighter!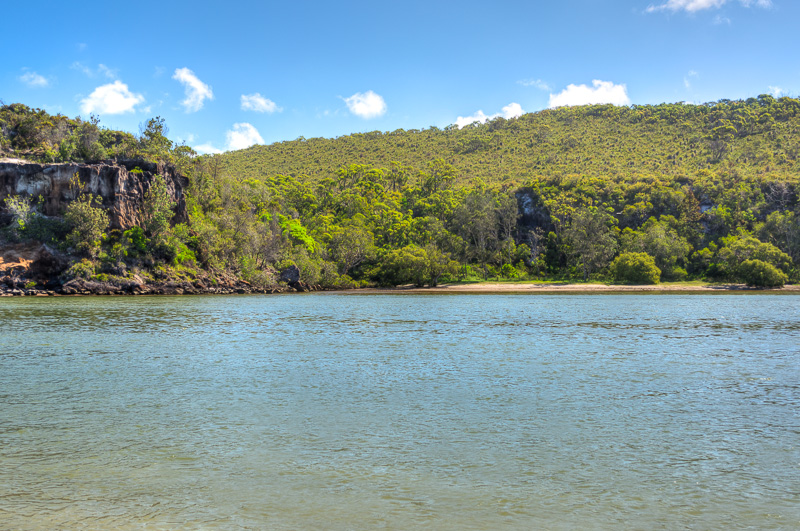 Arriving at the south-most end of Wooli Rd, I parked the car and scoped out the scene. My camp spot can easily be seen from the mainland. In the photo above the camp spot is on the grass above the sandy river side area.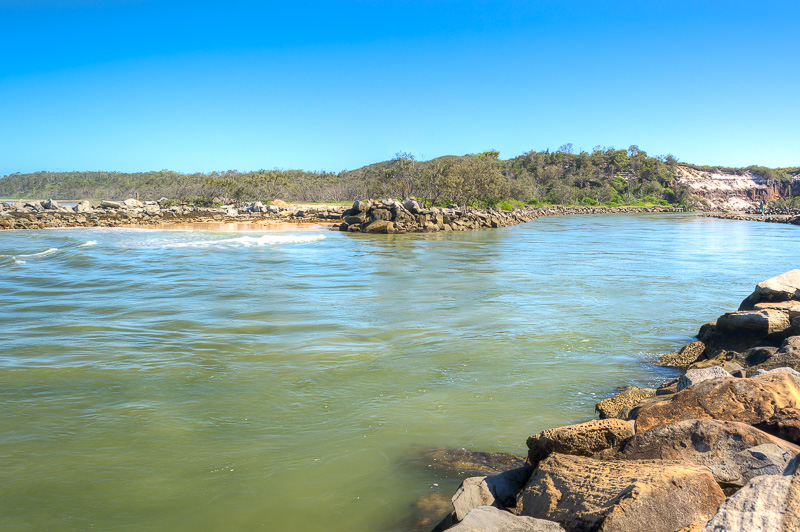 The photo above is taken from the breakwall near Wooli Beach. Over the other side is Jones Beach.
When kayaking anywhere near a point where a river meets the ocean, I always check out the tide and how the water is flowing. Arriving here late in the afternoon, there was a strong outgoing tide. This kind of tide could take a kayak out to sea very easily, as it'd be almost impossible to paddle against the tide.
When the tide is calmer, or if you have a boat, you can land at Jones Beach, which is very secluded as is only accessible by water.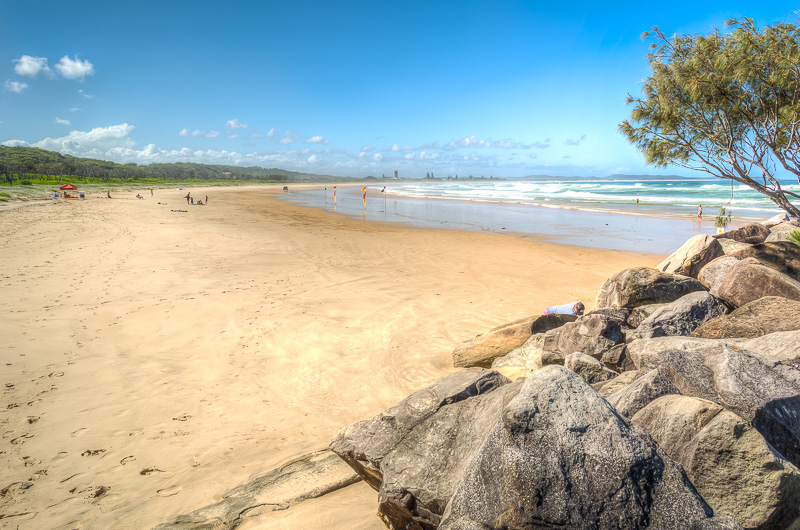 After checking out the conditions I parked my car at the south boat ramp along Wooli Rd and pushed off into the Wooli Wooli River. From the boat ramp to the camp spot is only a few hundred metres – but the point of today's trip wasn't a long kayaking session, it was to test out my kayak camping setup.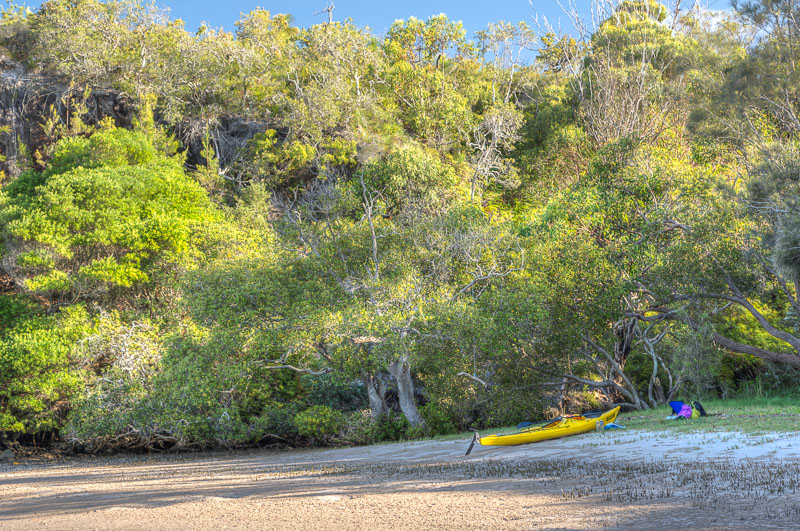 At around 5PM I landed at the camp spot. It was low tide and the tide was still going out.
I sat for a few minutes and enjoyed a beer while looking out across the river. A few guys were playing drunken river football force-em-backs, and one nearly got swept out with the tide (he had a beer in one hand).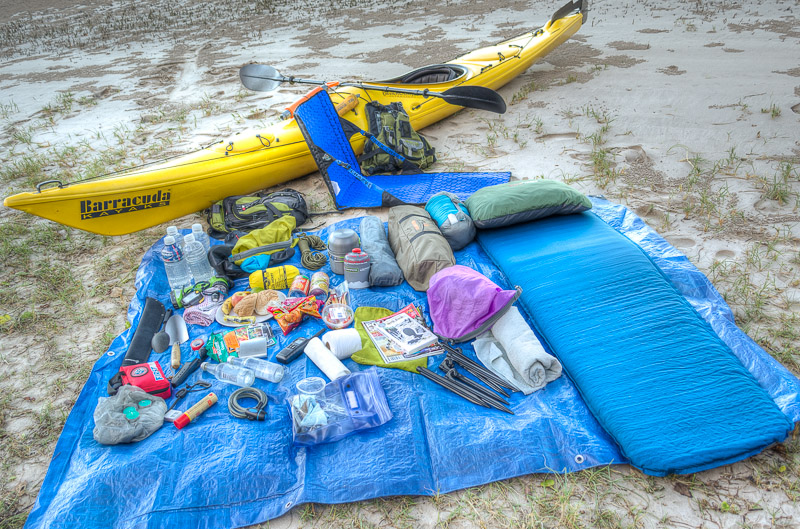 Full list of gear for an overnight kayak camp
Then I laid out absolutely everything (minus the stubbie I drank earlier) that I packed in the kayak. You can click the photo above to view the full size image. Here's a full list of the gear:
Crazy Creek Hex 2.0 Powerlounger
BlackWolf Standard Full self-inflating sleeping mat
BlackWolf Deluxe self-inflating pillow
Compact 5°C sleeping bag
Single swag/tent
3x3m hiking refuge shelter
Hiking stove
Companion propane cartridge
Companion Pro Nano Duo Hiking Cookset
Cutlery and utensils
Hiking fold-able bucket
Detergent, scourer, tea towel
Food and drink:

1 x can of soup, 1 x can of spaghetti
2 bread rolls
Banana and apple
Chocolate and snacks
Greek salad
Back Country Cuisine instant Spaghetti Bolognaise
1 hip flask (with VSOP Cognac)
2 small bottles of soda water
1 lime
4 x 1l bottles of water
Coffee sachets and sugar

Rope
Emergency rain jacket
Head torch and two other torches
Gerber machete
Titanium diving knife
Trowel
First aid kit
Citronella candles, 2 packets of matches, emergency flint
Bushmans insect repellent spray, insect repellent roll on
CB radio: waterproof and float-able
Toilet paper, paper towels
DSLR camera, waterproof camera bag (plus spare batteries and SD card)
Magazine and a book
6 x sand tent pegs
Towel
1 change of clothes
Kayak hand water pump
Kayak paddle float
Life vest
Some great gear
I recently got some of this gear new, so here are some quick thoughts:
Crazy Creek Hex 2.0 Powerlounger: This is the blue chair in the photo above, it is very compact and rolls up to about the same size as the hiking shelter. It's quite comfortable, and can be laid fully flat and placed under the mattress at night for added comfort.
BlackWolf Standard Full self-inflating sleeping mat: The best self-inflating mat I've had. I paid $150 for it at Coffs Outdoor World. It passed the "I can't feel the ground when laying down" test.
Companion Pro Nano Duo Hiking Cookset: this set (also pictured below, grey with green handles) is very lightweight and contains 2 pots and 2 bowls. Inside the set is a fold-able hiking bucket, detergent, scourer and the hiking stove itself.
Back Country Cuisine Spaghetti Bolognaise: MRE style, this takes up very little room and is very light. Just add boiling water, stir and sit for 10 minutes, then eat straight from the packet. I had this with a bread roll and greek salad. Next time though I'll bring some salt and pepper.
Lessons learned: what I'll do different next time
The camp pillow was terrible, so next time instead I'll bring a normal pillow and stuff it into a compression bag.
More of the instant meals (or MRE) and less larger canned food.
I actually left my small cooler bag with a couple of 200ml milks at home, so next time I'll bring this and have a decent coffee and cereal for breakfast.
Replace the normal towel with a microfiber one.
The tent takes up quite a bit of room, so I'll get a more compact bivy or 1 person hiking tent.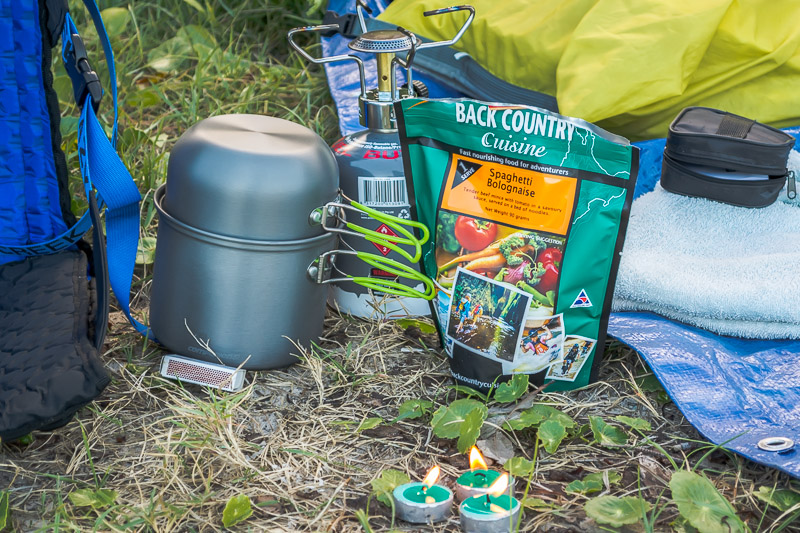 As the tide was reaching its lowest point in the late afternoon the soldier crabs came out to play.
To the right of the yellow warning sign in the photo below is the river mouth. The warning sign says that this channel is dangerous and life vests are compulsory.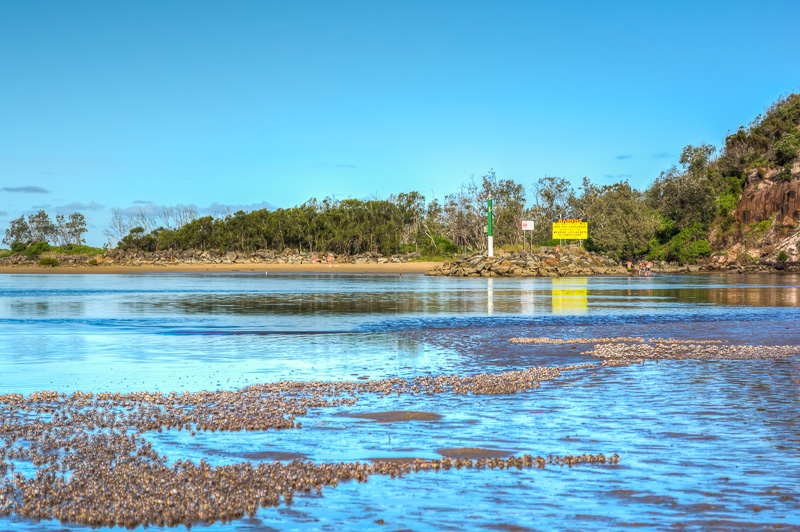 The hiking shelter has guy ropes built into it, so I just found a couple of tree branches and propped it all up, setting my tent up underneath it. I secured the kayak to a tree with a bike lock – chances are low that anyone would come out and steal it. Getting stuck without a paddle is one thing, but without a kayak would be a whole different story…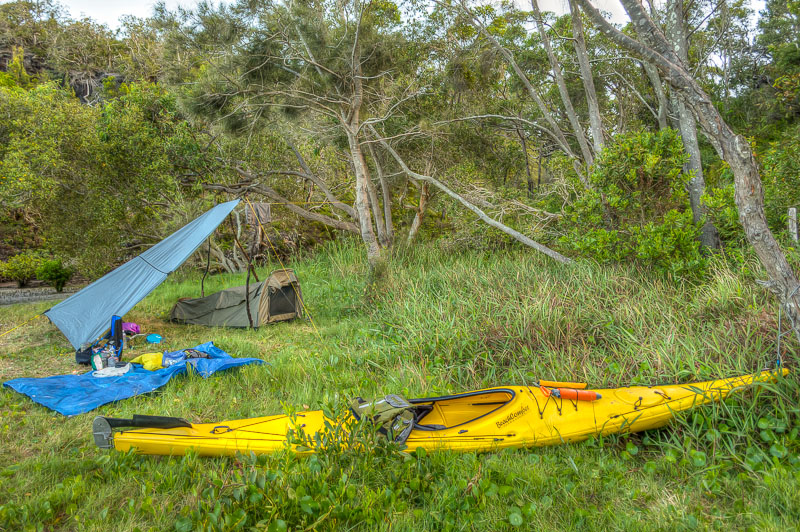 Some quiet solitude at sunset… After dinner I had a few cognacs and read, then got to bed for an early night.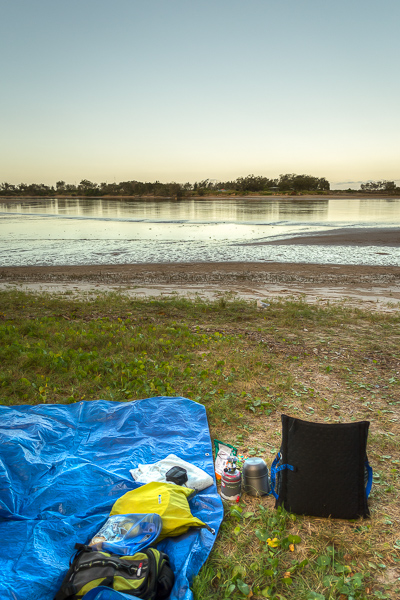 I was all packed and pushed off again by about 7:30AM (after a milk-less coffee and canned spaghetti for breakfast).
All my rubbish was kept to one plastic bag, and besides the footprints in the sand – you wouldn't know I was there!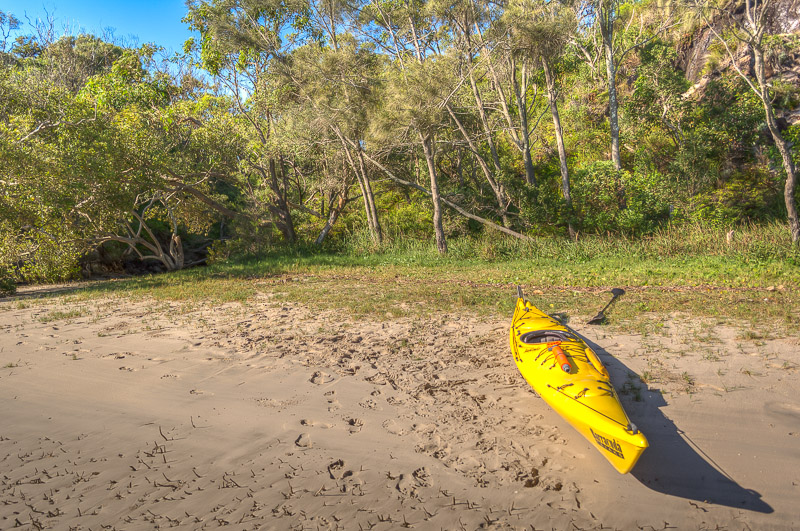 Map of the camp spot on the Wooli Wooli River. The blue boat icon is the boat ramp and the yellow house icon is the camp spot.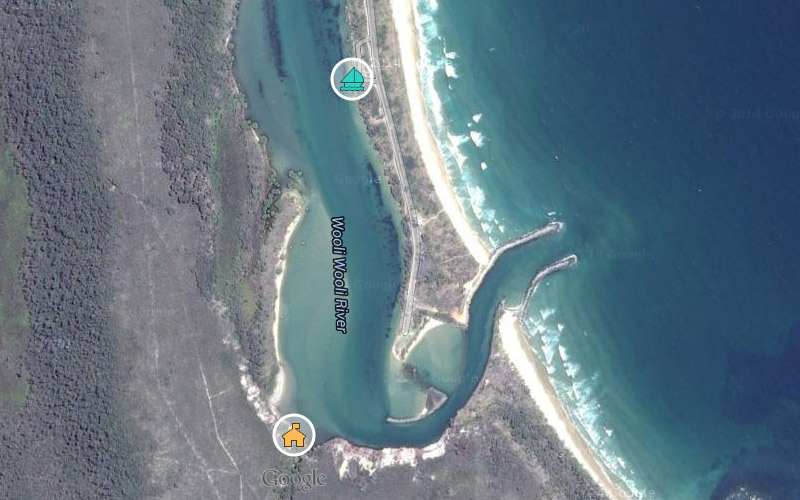 If you like fishing, be sure to read the signs at the boat ramp. This entire area is basically a national park and there are restrictions on where you can fish.
At the boat ramp there is also a sign with information about the local emergency radio frequencies and phone numbers.
Verdict: kayak camping at Wooli NSW
This was a great first camp. I'll keep exploring the area and try for some longer distance paddles next time.