So, I'm now a biker person. After getting my learners license in Coffs Harbour, NSW, Australia, I bought a KTM Duke 390 2014 model from the KTM dealership in town.
Here I'll post about any add-ons or modifications I do to the bike. First thing to sort out was storage bags…
ViaTerra Velox Saddlebags
I like to ride. I like to take photos. I don't like to wear a backpack filled with heavy photo gear while riding.
So after quite a lot of research, I bought the ViaTerra Velox Saddlebags. Have been using these bags daily for a few weeks now.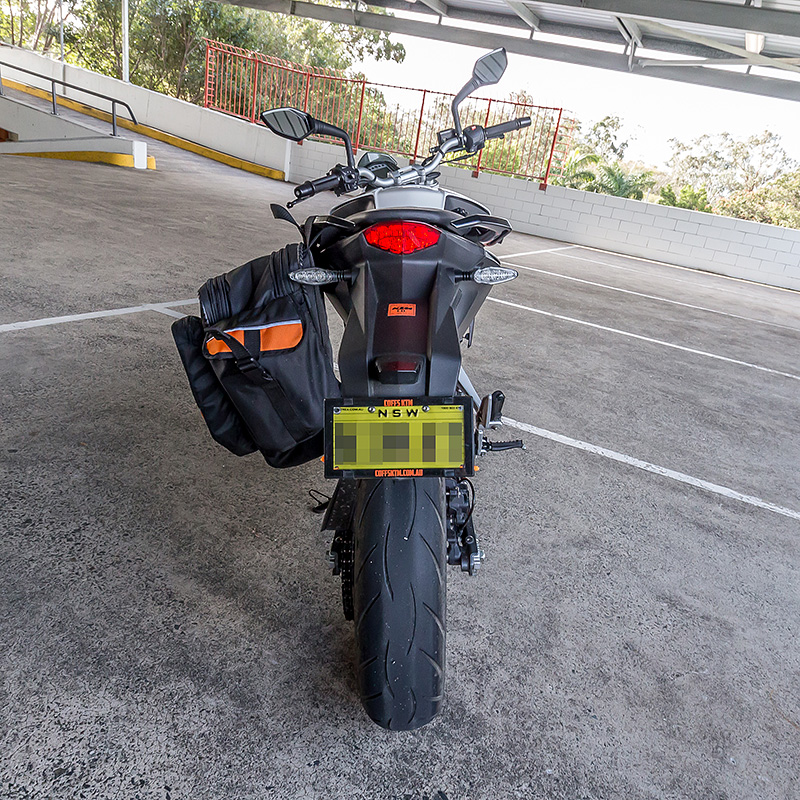 You can fit either a single bag or both bags. ViaTerra gear's video for mounting and un-mounting the Velox Saddlebags was super helpful, but doesn't show how to mount just a single bag.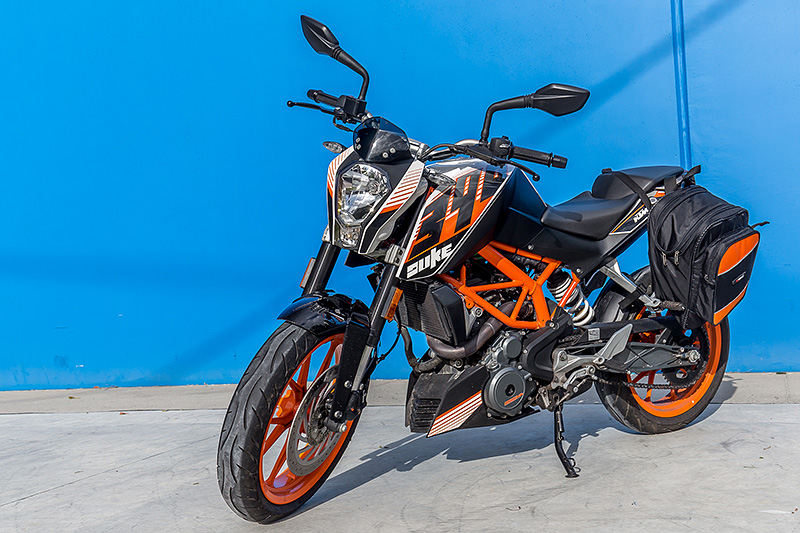 The left bag can be mounted by itself. It has a strap which usually passes across the top of the seat and connects to the right bag. Without the right bag, just loop the strap around the rear grab bar on the right side of the bike.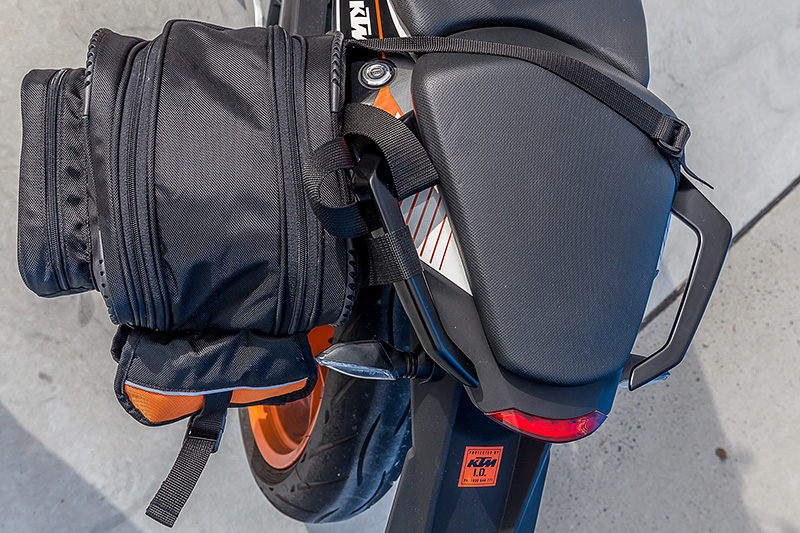 Freedom.
Riding without a backpack just adds to the feeling of freedom while riding a motorbike.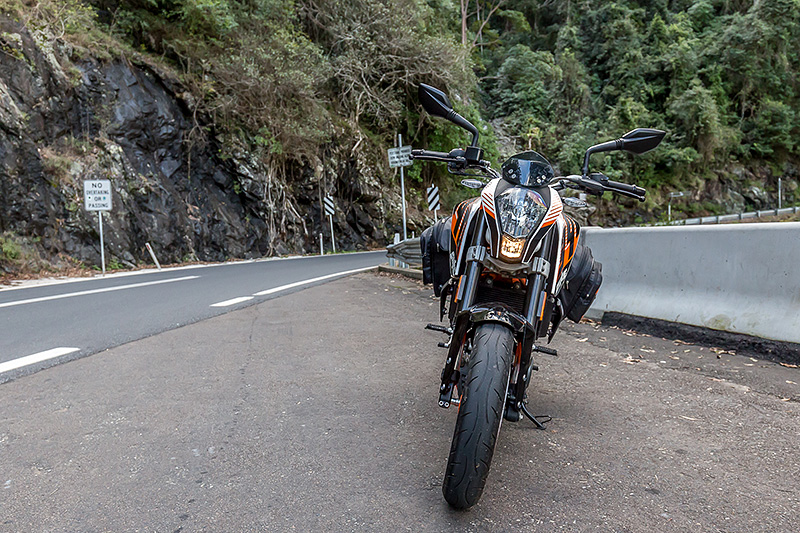 The two bags together hold a significant amount of stuff. More stuff than a normal backpack.
At first I was a bit hesitant about putting $5000 worth of camera gear in these bags. But these bags are super sturdy. They fix securely to the bike. The riders legs divert air away from the bags, so there is very little dragging the bags away from their mounts.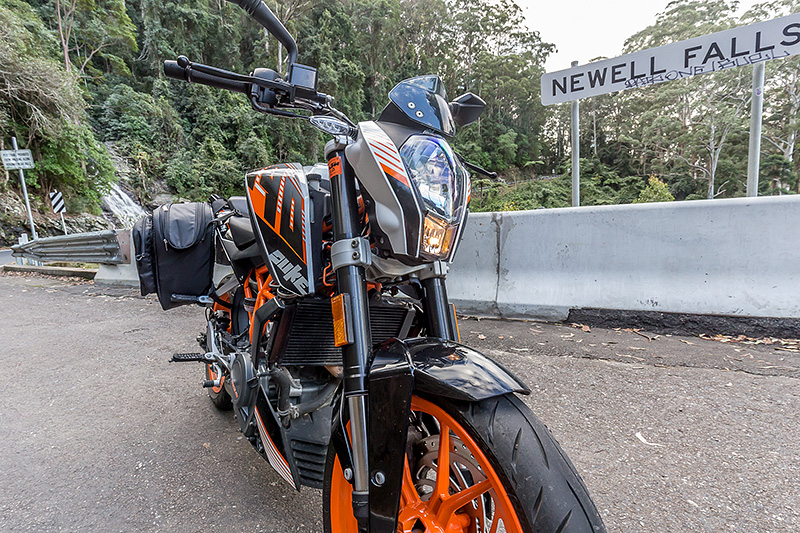 Colours match the scheme of the bike, and include reflective piping for extra visibility.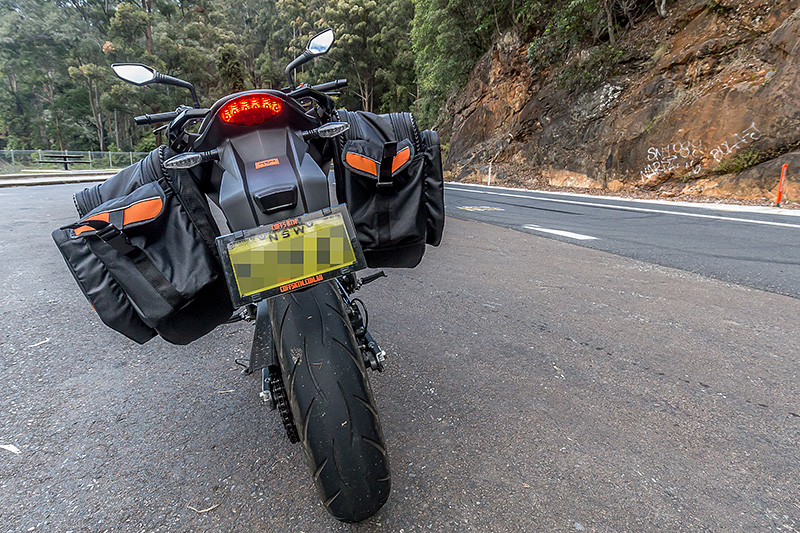 Coming back from this ride, I managed to fit the following in the bags:
Canon EOS 6D
16-35mm lens
70-200mm lens
Spare camera batteries
Large lens filter pouch, other random camera cleaning bits and pieces
Waterproof lining for bike pants
Water bottle
6 pack of beer
1kg bag of Potato Gems
Cordon Bleu chicken breast
Pair of runners
Phone and wallet
2 waterproof covers for the saddlebags