After exactly two months in the van, and the departure of two fellow convoy members, it was time to drive home.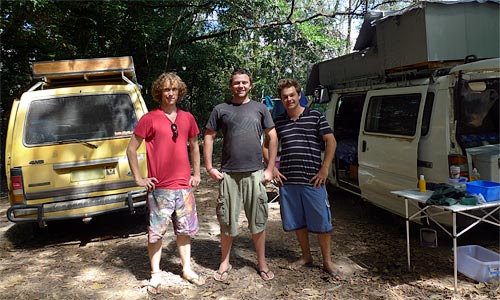 The drive was a big one, 2150km and we travelled from the camp at Gordonvale near Cairns to Surfers Paradise in just 10 days.
View Larger Map
Starting from Gordonvale, these are the places we visited on the way to Surfers Paradise:
Mission Beach: Dunk Island View Caravan Park,
Jourama Falls: which we camped at a few weeks ago,
Funnel Bay at Airlie Beach: which is where I first met the convoy at the start of my trip,
St Lawrence: a recreational reserve on the way to Rockhampton from Mackay,
Bargara Beach outside of Bundaberg: staying at the caravan park a short stroll from a nice cluster of shops,
Caboolture: our final camping at the back of the showgrounds,
Surfers Paradise: where I am now, heading home to Grafton next week…
The drive was hard but having a co-driver helped hugely. We tried to breakup large days of driving (300kms +) with a rest day in between. Now I have hot showers, cold water and electricity on demand which seems so luxurious.